Insurers Accused of Conspiring to Deny Lyme Disease Coverage
Twenty-eight people claim in a federal antitrust lawsuit that Lyme disease victims are being forced to pay hundreds of thousands of dollars for treatment because health insurers are denying coverage with bogus guidelines established by their paid consultants, who falsely say the disease can always be cured with a month of antibiotics.
See the article in it's entirety here: https://www.courthousenews.com/insurers-accused-conspiring-deny-lyme-disease-coverage/?fbclid=IwAR0QemEnSZ8d_rBeNGfa1YMQJxJR0lBSkkTBT04PKAcBkvZfhx0aFxpmBLQ
Patient lawsuit against IDSA and insurers moves forward in Texas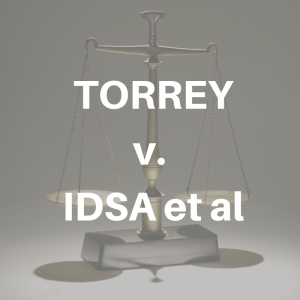 By Mary Beth Pfeiffer
A federal lawsuit that may just validate the pain of thousands of Lyme disease patients – and the flaws in prevailing tests and treatments — is moving ahead in a Texas courthouse, despite attempts to kill it.
The lawsuit's progress is a big development in the decades-old struggle of patients whose post-treatment conditions – involving myriad neurological, cognitive, musculoskeletal, and cardiac symptoms — have long been misdiagnosed and minimized. Patients have hence had to seek out-of-pocket treatment from physicians who risk their licenses providing it.
The suit, Torrey v. Infectious Diseases Society of America et al, aims to change that, and, make no mistake, is a serious challenge to the Lyme status quo (see my article from 2017).
In the crosshairs of the case are six major architects and proponents of the guidelinesthat have dogmatically ruled Lyme disease care for two decades: Raymond J. Dattwyler, John J. Halperin, Eugene Shapiro, Leonard Sigal, Allen Steere, and Gary P. Wormser. (A seventh, Robert Nadelman, died in 2018.)
Beyond that A-list of Lyme actors, the lawsuit also accuses eight insurers of conspiring with the IDSA and the Lyme architects to advance treatment protocols that limited care options to the 25 named plaintiffs, two deceased, for whom the protocols did not work.
The companies are Blue Cross And Blue Shield Association, Anthem, Inc., Blue Cross And Blue Shield Of Texas, Aetna Inc., Cigna Corporation, Kaiser Permanente, Inc., United Healthcare Services, Inc., and Unitedhealth Group Incorporated.
See article in it's entirety here:
https://www.lymedisease.org/idsa-lawsuit-pfeiffer/?fbclid=IwAR02oK1Kczy7L07HJX0DQJ7-lkpLizwnkbMZJmnZhQmfHahdIH9LcgXLA1w